Guide Profiles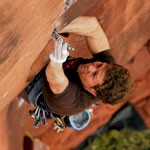 Jeremy Blumel
Jeremy Blumel began climbing 23 years ago when he was tricked into taking a trad lead climbing course by an acquaintance. With people like this, who needs enemies! Not realizing the consequences of this hoax and easily tricked, Jeremy dove into bouldering, sport, traditional and alpine climbing and has never looked back. He lives in Squamish, is a school teacher, an ACMG Full Rock Guide, ACMG Level 1 Climbing Gym Instructor and a Dad.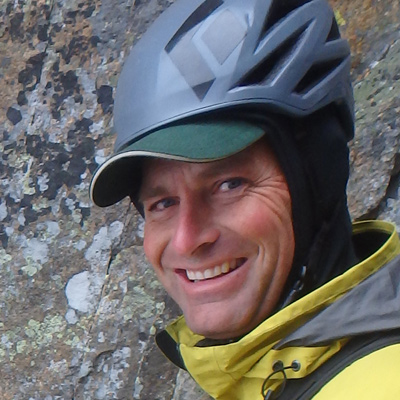 Lyle Thiede
Lyle first started rock climbing in 1989 at the Williams Lake bluffs while still in high school. His passion led to him spending the summers living out of a vehicle and climbing. He has climbed from Squamish to Canmore as well as the Western US and Mexico. Lyle has completed the Thompson Rivers University Adventure Travel Guide program, and has been an ACMG Apprentice Rock Guide for 22 years. Lyle lives locally with his wife and 2 kids. He has been climbing in the Skaha bluffs for the past 28 years and working for Skaha Rock Adventures for 22 of those years. He spends his winters ski touring and working as a Ski Patroller and CAA Level 2 Avalanche technician. When not in the bluffs, Lyle can often be found spending his summers at sailing regattas throughout the Okanagan.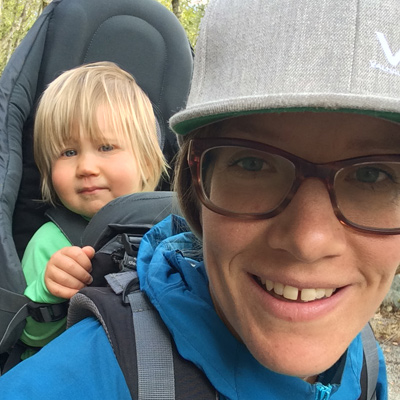 Kinley Aitken
Kinley is a Full ACMG Rock Guide from Squamish, BC. Kinley lead her first routes in the Skaha Bluffs over 16 years ago and has been an ACMG Guide for the past decade. She is at home guiding long routes in Yosemite as well as teaching high-level instructional courses to aspirant guides. Kinley has climbed around the world including Madagascar, South Africa, Austrailia, throughout Europe and North America, including a one-day ascent of the Nose and alpine routes on 14,000 foot peaks. Kinley balances guiding and a backcountry catering business while raising her small daugher, climbing, gardening and generally trying to squeeze as much in to every day as possible (naps included).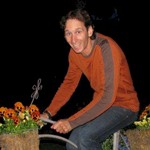 Bob Andreychuk
I am currently a certified ACMG Full Rock Guide that has been enjoying every genre of climbing for 26 years. I have climbed extensively in Western Canada, California, Nevada and Utah. I am also a active member of the Industrial Rope Access Trades Association and a Inter-Provincial Journeyman Carpenter that specializes in interior finishing carpentry. When I am not making saw dust or dangling from my finger tips I can be found paddling or mountain biking some where in this province. In 1993 I made my first trip to Skaha Bluffs. I dreamed of one day being a rock climbing guide here. So here I am living the dream representing Skaha Rock Adventures.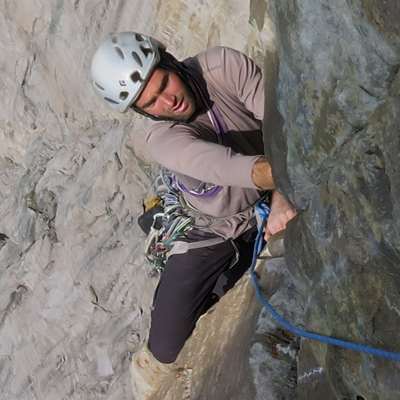 Tony McLane
I was born and raised in Squamish BC and learned to climb at an early age, growing up within walking distance to an amazing array of granite cliffs. I developed a love of Skaha bluffs as a youngster on family vacations. Coming from the west coast to the dry climate of the Okanagan valley is always refreshing. Every off-season I pack up and hit the road in search of warm dry rocks, how fortunate this freedom is! The climbing lifestyle is a wonderful gift, beautiful rarely seen views, good exercise and most importantly great people. Guiding has naturally become my line of work. I did my Apprentice Rock Guide exam in 2010. Passing on my skills of safe and efficient climbing to keen learners is truly my pleasure. Sharing a contagious love of climbing with my clients is a successful day. See you at the cliff.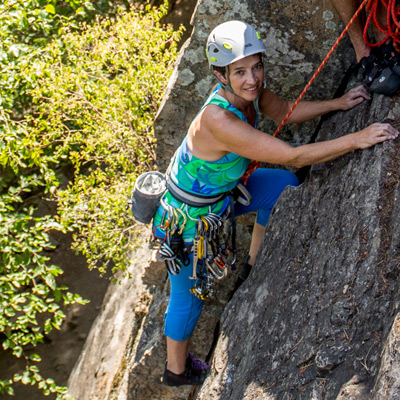 Beth Warlow
Beth began rock climbing in the early 1990's, including road trips to Squamish, Leavenworth, Joshua Tree, Lovers Leap, Frenchman's Coulee, City of Rocks and the Canadian Rockies. She has had a steady hand and played an important role in helping to guide the growth of this company. When not working as a nurse, she also enjoys skiing, hiking, kayaking and sailing as other recreational pursuits.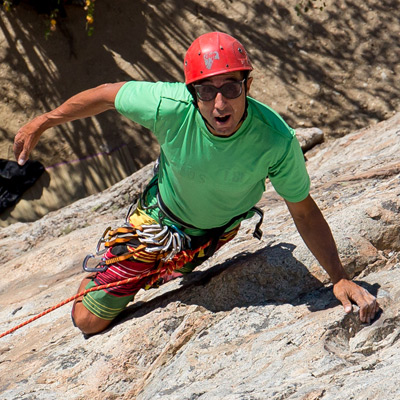 Peter Arbic
Peter has been introducing folks to climbing for over 40 years. He became an IFMGA Mountain Guide in the 1990's and though retired from the really big hills, he still spends his winters heliskiing and summers rock climbing. Exploring the Skaha Bluffs is what first drew him to the area but if it's windy on Lake Okanagan, there is likely a kite in the truck for after climbing.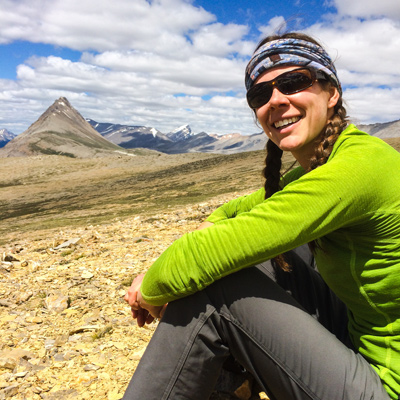 Caroline Irvine
Caroline grew up in Ontario and has recently made Kelowna her new home. She first began climbing 8 years ago while on a working holiday in the south island of New Zealand and has been hooked ever since. She is most excited about the Okanagans' long climbing season and the number of fantastic road trip destinations nearby for sport, trad or alpine climbing. In the off-season and winter you'll find her hiking, scrambling, skiing and snowboarding, including volunteering as a patroller with the Canadian Ski Patrol.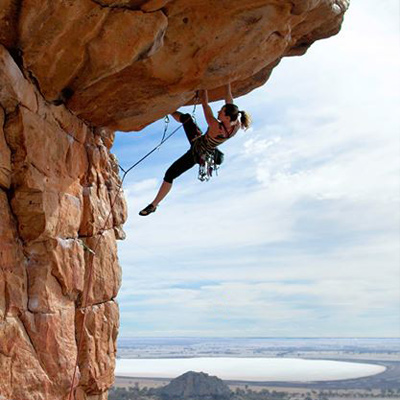 Hannah Preston
Hannah Preston is an ACMG Full Rock Guide. She started guiding because she is very passionate about teaching people the technical side of climbing as well as the emotional achievements that come with challenging yourself and connecting with nature. Hannah has been climbing since she was a kid, with her teddy bear clipped to her harness and since then she has dedicated years to travelling, rock climbing, mountaineering and improving her technical skills. She has climbed El Capitan in Yosemite Valley four times, sent 5.12's in five different countries and loves combining the techniques from different rock types from around the world. She is also an Industrial Rope Access Technician and enjoys geeking out on the physics of rope systems.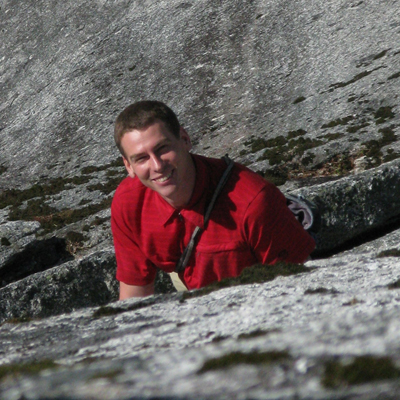 Andrew Rennie
Andrew is an ACMG Alpine Guide, who holds a double-major degree in exercise science and exercise prescription. He is also an internationally certified personal trainer by the American Council on Exercise.
Born and raised in North Vancouver, BC, he began climbing in Squamish in the late 90's and was inspired by guides to take his passion for climbing higher, into the mountains. One of his greatest joys is facilitating similar experiences to young people, directing their lives towards the mountains and giving back to the sport that has given him so much.
He has climbed in New Zealand, Patagonia, Colombia, Peru, Croatia, Sweden, Thailand, Morocco, Australia, Spain and the USA. Andrew is always psyched for the next adventure! He loves all types of climbing from bouldering to ice climbing to aid climbing, but his favorite climbs are long multi-pitch trad climbs on big granite alpine walls and towers.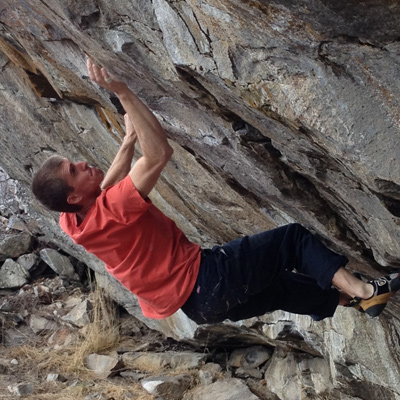 Doug Orr
Hi, my name is Doug Orr and I am a certified ACMG Top Rope Instructor. While I have only been a TRI for one year, I have been rock climbing for 30 years with the last 20 of them mainly in the Skaha Bluffs. Skaha is one of North Americas' best rock climbing areas and there is nowhere else I would rather live, work and play. I have been heavily involved in many aspects of the Skaha Bluffs, from new route and boulder development to trail building and maintenance. It feels very good to me to be able to pass on my love for Skaha to the next generation of rock climbers. Working with Skaha Rock Adventures gives me this opportunity and it's fun! See you out at the Bluffs!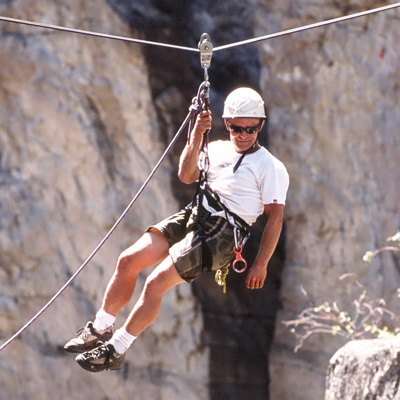 Dean Walton
Dean is a local ACMG Guide with over 30 years of guiding experience. He was very much a part of CMH heliskiing for over 25 years, which included an Assistant Manager position for one of their lodges. He has worked for Skaha Rock Adventures as a climbing instructor for the past 18 years. When he is not teaching in the Skaha Bluffs, he can either be found kite surfing on lake Okanagan, the Baja, Hawaii, Dominican Republic, the Phillipines and beyond.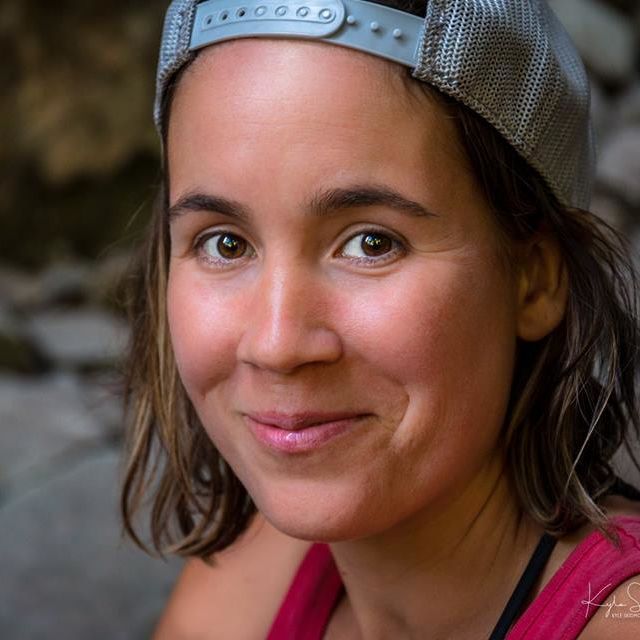 Catherine Pitura
Hello, my name is Catherine. I have been climbing for over a decade and have learned how to climb safely and have fun while doing it. I love getting to know new people and sharing the climbing experience with them. I believe in recognizing fears but dreaming big anyway and I love inspiring people to bring goals to life on the rock and in real life! One of my great achievements was the ACMG Assistant Rock Guide Exam, which was a week long rock guide evaluation process on The Chief; a 700m granite mountain in Squamish. I love the Skaha Bluffs and look forward to climbing with you there! My qualifications include ACMG Top Rope Instructor, ACMG Apprentice Rock Guide, Certified Yoga Teacher, Certified Personal Trainer with Canadian Fitness Professionals specializing in group fitness, plant-based nutritionist, holistic health care provider and founder of The Conscious Climber.