Russ Turner - Bio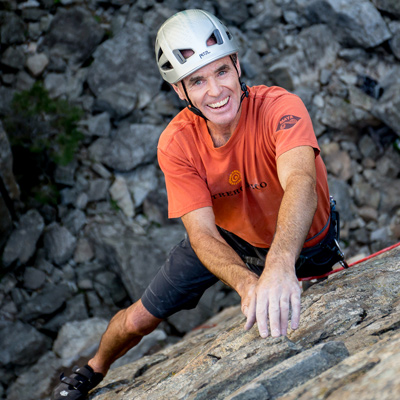 Russ Turner
Russ Turner established Skaha Rock Adventures Ltd. in 1993. A local climber, he was born and raised in the central Okanagan. A graduate of the Capilano College Outdoor Recreation Diploma program, he went on to work as an Outward Bound Mountain Instructor in Keremeos for seven years. A passionate climber, skier and educator, he continued his training and went on to become an Association of Canadian Mountain Guide. With 41 years of professional rock climbing, mountaineering and ski guiding experience, his supportive teaching style and technical knowledge makes him an exceptional instructor.
As a rock climber, alpinist and ski tourer, he has climbed and skied in remote ranges around the planet to include the Himalayas, Peruvian Andes, European Alps, Mexico and St. Elias range of the Yukon. Having extensively explored the continent of North America, his quest for climbing adventures found him living on the road for 14 years in search of new rock and alpine climbing destinations. It was during one of these extended road trips that he happened upon the beautiful Skaha Bluffs of Penticton. In awe he realized his long driving days were over – Skaha Bluffs would now become home. Realizing the incredible training potential of this area, he invested 3,800 hours of volunteer labor developing first-class teaching sites for his programs. As an active supporter of Pentictons' climbing community, he's been an an effective member on numerous committees since 1993, helping to preserve climbers' access and create what is now known as Skaha Bluffs Provincial Park.

Besides rock climbing and mountaineering, other interests include nordic skiing, alpine skiing, mountain biking, sailing, golfing, sea kayaking and new route development. He and his wife Beth now call Penticton their home.